One of the most common uses on the internet in today's world is using the internet to share information. It's incredible to be able to exchange knowledge, persuade people, and assist them by writing.
I remember starting blogging almost 8 years ago when I was only 22. And that time, the idea of blogging or earning money from a content blog was pretty much new to many. Today blogs, posts, SlideShare materials, and other types of business writing are now ubiquitous. And after the Covid era, this has gone multiple folds.
Now individuals and existing businesses are thriving to set up an online presence via content marketing or acquire existing content-based businesses.
Rightly, high-quality content makes consumers knowledgeable of a specific brand, making it easy for them to hear about its different services and goods.
A friend of mine recently approached me to inquire about what goes in for buying an existing content business.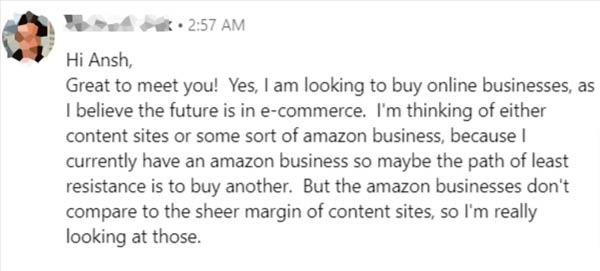 …

Let us take a closer look at the advantages and disadvantages before you acquire a content-based business.
Pros of buying a Content Based Business
#1. You'll do what you enjoy
The significant thing to emphasize is that you get to do the stuff you enjoy doing. If you don't like writing content or editorial work, there's no need even to suggest giving it a chance. It will surely be worth it if you like it. Your need to appeal to your desires or whatever pops into your brain, and it must be compensated for. Build content that meets the interests of your readers. You will have a fantastic chance to transform this into a profitable company.
Content-based businesses are an excellent choice for the urban nomads of the modern millennium. On top of that, even though you choose to lead a different life, a business like this will provide you with the versatility you need.
#2. The growth stage is probably over by now
Raising a new content business can probably take around 8-12 months or even more if starting from scratch. But buying an already existing content-based business has its own share of brownie points. Getting a well reputed and credible business on the go provides the person with a competitive edge. And we all know how important reputation is to run a successful business.
In order to solidify your image as an industry pioneer, a professional specialist, and a useful business, essential articles on your blog are necessary. When you raise brand visibility and encourage good sentiment towards your business and its goods or services, you improve brand recognition and easily generate momentum for your company.
#3. Creates long term assets
Your already-ranking content articles will continue to produce revenue for you without you needing to put in any additional effort. For the most part, you will easily keep the content current by updating the page every so often. Also, word of mouth or even exposing them to your email lists would travel places and provide you with future assets.
#4. More customers to other related businesses
You can easily channelize the traffic on your content site to your other related products. For example, If you own an eCommerce store in the fitness niche, buying a fitness content business blog can open double the revenue streams for you. While you can generate revenue from traffic via Ads or affiliate commission at your content business site, you can also use the same traffic and refer them to your eCom store. Obviously, someone reading a fitness article would be a hot lead to buy a fitness-related product as well.
Cons of buying a Content Based Business
#1. Low Barriers to Entry
One of the main disadvantages of a content-based business is the low entry barriers, allowing anyone and everyone to enter easily. It would be best if you distinguished yourself from the crowd as you will need to stand out from the crowd and be unique in every way. Moreover, such a business doesn't necessitate a lot of technological knowledge. People tend to believe it is easy. These individuals believe that they would set up a particular website, make a few blogs, and then profit from it.
Since the barriers to entry are too minimal, there is a lot of rivalries. There are millions of pages available on the internet talking about the same subject. In the same area as the one you are competing in, hence, there would most likely be (hundreds of) thousands of rivals.
#2. Google can shut you down anytime (if traffic is organic-based)
Organic traffic is the primary channel for most of the content sites. This traffic is classified as a search engine visitor, for example, Google or Bing. But what happens if Google shuts you down? Not directly but indirectly.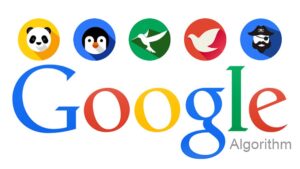 Google algorithms are released or updated every 4-6 months leading few websites to the top while dropping few websites to the bottom of search ranks. Several other reasons can lead to a rapid decline in organic traffic, including poor backlinks, plagiarism problems, and changing topic importance.
#3. Sellers can manipulate traffic stats easily.
Business valuation depends considerably on how many visitors a business receives. But for $5 on Fiverr, I can purchase a fake traffic bot to visit my website every day.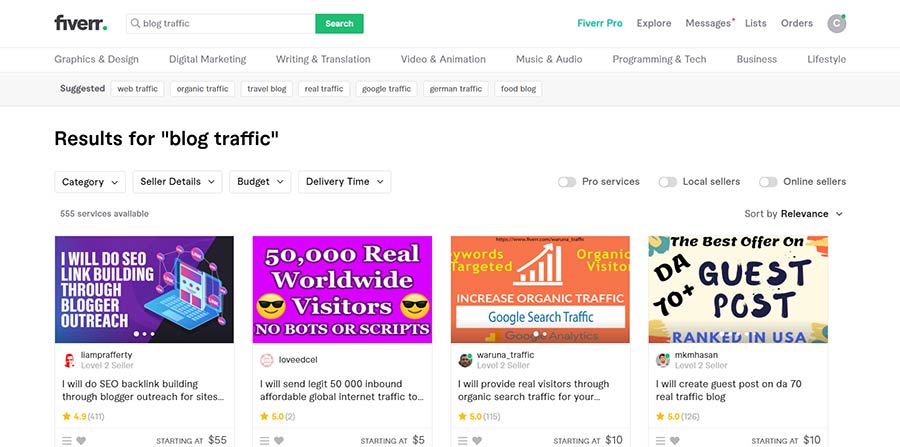 While most sellers don't do this very often, it can easily be done to manipulate traffic numbers in Google Analytics to increase the business price.
#4. Information is becoming Cheaper.
You are mostly in the information industry as a content developer. And knowledge is getting more and more affordable with each day. Today, most of the content is created as Free, and those businesses rely heavily on banner ads to sustain themselves.
Even most ebooks are available for as low as $1 on Amazon.
Even the long video courses are racing towards the bottom of the price table.
$5. Growth is Mostly on the slower side
Content-based businesses involving content marketing don't give fast results. In fact, it relies on the amount of time to see results. There is no or only a thin chance it will create a short-term return for you.
If the business doesn't have an email list, the time to rank your new content organically can take anywhere between 4-6 months.
#6. Long Work Hours
The amount of time it takes to produce good-quality content depends on what type of content you need. Content business is always a work progress. If you wish to support clients and retain new ones, you must invest time considering their challenges, concerns, queries, and situations; and constantly keep producing content to sustain your Google rankings.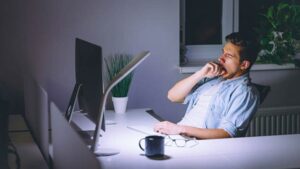 The amount of analysis you have to perform could be significant. You will have to gather evidence, analyze it, and then you will have deliver it in a digestible manner.
You'll inevitably have to outsource several or more of the activities involved that could contribute to cost overruns.
Even with outsourcing, you as an owner would still need some proofreading to verify if the content meets your business goals.
#7. Content business is not Passive at all.
Many buyers tend to buy a content-based business with a wrongly perceived misinformation that a content-based business would earn them a passive income for the long term. On the contrary, the content business is not passive at all.
It requires a constant learning curve, and this could be frustrating and challenging. Any terms and modern approaches are part of content-based businesses today. Most of these content sites are evolving towards lead generation or funnels to market their content and related products. You will continuously be required to learn and adjust yourself to new methods to keep the flow. Most probably, you will be creating content, Ads, funnels, managing leads, promoting social following on a daily basis. All this may be too overwhelming compared to what you initially thought.
Should you buy a Content based business or not?
Having a look at the pros and cons of buying a content-based business, it is simple to say that a content business can run smoothly for those who have a passion for it.
Many people wish to change their hobby into their job and earn from it. But every doing something that a person loves and making it their living does not come easy. Moreover, the market does not let people settle down, as it shows its true colors and may also lead the business to disastrous ends. Hence, it is recommended to extensively analyze the pros and cons to reach a significant decision to buy a content-based business.
We hope we have helped you assess a content-based business to reach the right decision yourself.
At Buysellempire, we asses each buyer's persona to identify what business is best suited for them.
Let us help you find the best content-based business or any other business you are looking for.
So, What is the wait for? Click here to get started.